Image Credit: NASA/JPL-Caltech
NASA's
InSight mission l
ands on Mars on November 26, 2018. While it took the spacecraft almost seven months on its journey from Earth to the Red Planet, its descent through the Martian atmosphere will take just six minutes. InSight will deploy a tough parachute and retrorockets for its landing on the flat, low plains of
Elysium Planitia
, nicknamed "the biggest parking lot on Mars" by the missions engineers. This area was chosen in part for its relatively flat and smooth terrain - as its nickname implies - to help ensure a smooth landing for the probe.
Once safely on the surface, InSight will deploy its instruments to the dusty Martian surface via a mechanical claw arm. After its seismometer is safely deployed, its temperature probe hammered into the soil, and the rest of its instruments deployed and checked out, Insight will begin its study of the interior of Mars. How seismically active is Mars? How frequent are its "Marsquakes", and how severe? How hot is the Martian interior? How much do the poles of Mars "wobble"? How large is the core of Mars, and what is it structure? The answers to these questions will help scientists' understanding of the history of the inner rocky planets of our solar system, including our own Earth as well as Mars.
The stages of InSight's descent towards the Martian surface.(NASA/JPL-Caltech) Click here for a higher-resolution image.
You can
watch live streaming coverage
from NASA the day of InSight's landing. Coverage will be streamed starting on 11:00 am Pacific Time/ 2:00 pm Eastern on November 26 via
NASA TV
,
NASA.gov/live
,
NASA/JPL's YouTube channel,
and
NASA/JPL's UStream
site. The stream will feature the latest news and live commentary by mission scientists and engineers. You can even join a landing watch party in person! Find a party near you using
NASA's viewing party map
.
Night Sky Network members joined mission scientist Sharon Kedar for a very informative
webinar
about the science of InSight in March 2018, where he led inquisitive members on a deep dive into the mission. You can listen to the 45-minute webinar to learn more
here
.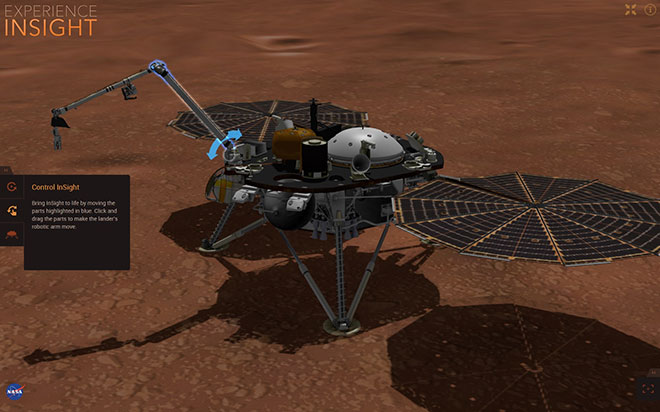 We have a few additional resources for astronomy outreach enthusiasts. You can explore how InSight will deploy its instruments by using the
Experience InSight
webapp. You can explore the surface of Mars - and Elysium Planitia - in greater detail with
Mars Trek
.
As you track InSight's journey you may be wondering where NASA's other missions are located throughout space. Our "
Exploring the Solar System
" outreach activity features a fun exercise where you plot out where NASA's robotic explorers are located in our solar system, along with the location of the planets - including Mars.
You can
observe Mars
on any clear evening, shrinking but still bright and high in the evening skies this month. As you look at its reddish light you can contemplate how much we have learned about Mars over the course of just a few decades of robotic exploration, and think about how much more we will learn from InSight's studies. Safe landing, brave robot!
Last Updated: November 19, 2018
Night Sky Network members are committed to bringing astronomy to the public!
NASA/JPL, the ASP, and additional partners proudly support member clubs' outreach events with a variety of free materials and tools in exchange for posting and reporting their events to the NSN calendar system, including: outreach toolkits, quarterly prizes, handouts, webinars with NASA scientists, along with increased visibility for upcoming events posted to the public calendar.
Follow us on
Facebook
,
Twitter
and
Instagram
for the latest NSN news and outreach photos, and subscribe to our
YouTube
channel for recordings of our monthly astronomy webinars, as well as archives of our Outreach Toolkit demonstration videos.
#NightSkyNetwork #AstronomyOutreach
The NASA Night Sky Network is managed by the
Astronomical Society of the Pacific
. The ASP is a 501c3 non-profit organization advancing science literacy through astronomy.